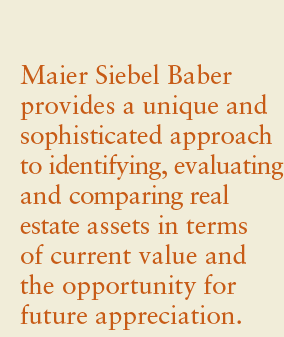 Maier Siebel Baber helps private investors, lenders, trustees, receivers and hedge funds make big and often difficult decisions. Our team of real estate professionals delivers comprehensive solutions to effectively initiate change in the operations of a property to maximize long-term benefits. Our goal is to help our clients implement a plan to succeed in today's turbulent markets.
Our strength is having the vision and the practical experience to identify and realize each property's maximum value. The ability to take on troubled situations and create opportunity takes years of experience and in-depth, tangible market knowledge. For over 25 years, Maier Siebel Baber's primary focus has been the repositioning and transitioning of assets to maximize value and return on capital. Knowing the steps necessary to correct the operations of a distressed asset is a practice requiring more than brokerage, asset management or property management skills. In an asset recovery strategy, accurately defining the steps to stabilize a property are the keys to success. The property orchestration of real estate disciplines can make the difference between a loss of capital or a property's recovery. Cost reduction, debt restructuring, asset repositioning, marketing, leasing and tenant retention are key skills to revitalizing a building. Knowing the sequence of these steps and how to efficiently apply funds are key ingredients for achieving success.
Proactively managing an asset and accurately measuring its performance are critical components of the strategic plan to shift from a position of vulnerability to viability. Maier Siebel Baber has consistently provided its clients with the necessary services and tools to maximize value and return on capital. Maier Siebel Baber helps building owners and operators develop clarity of the key strength and weaknesses of a property to gain consensus on the appropriate tactical strategy to improve performance.