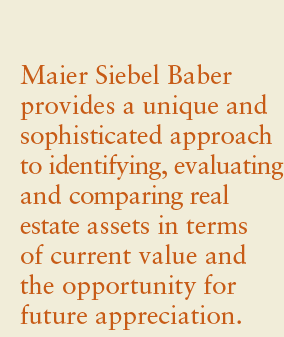 Maier Siebel Baber holds a unique reputation for securing off-market acquisitions and structuring dispositions to optimize an investment's after-tax proceeds. The combination of our experience purchasing distressed and under-positioned assets and orchestrating strategic property assemblages is well established. Our principal's extraordinary level of vision and dedication to the field of real estate is exemplified in our proven track record of investment success in the western United States. Maier Siebel Baber has formulated a unique process to capture the maximum benefit of its capital transactions. Our proven process identifies strengths and clarifies the financial impacts of any inherent weakness to secure the optimal terminal valuation.
We provide a sophisticated, objective approach to evaluating real estate assets relative to the market alternatives in terms of current value, cash yields and future appreciation potential. Our proprietary financial analyses combine local market knowledge, contextual assumptions and long term trend analysis to provide a consistent objective benchmark for performance management.
Capital constrained markets require a transaction team with the ability to identify and secure favorable debt and/or equity financing. In such an environment, transactions are likely to be completed utilizing a combination of in-place financing and new investment capital. Our team's experience through various market conditions and our relationship with a broad array of lenders provides a strong competitive advantage. Optimizing the balance between the debt's burden on cash flow and its ability to create disproportionate upside is critical to an investment's long-term success.